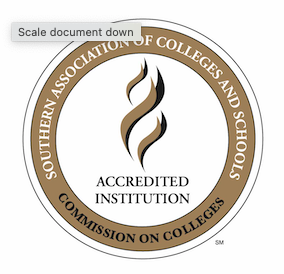 September 22, 2022
Dear College Family,
This is it! I want to remind everyone that this next week we will be hosting ten very important visitors to our campus. The SACS-COC on-site visiting team will be here as our special guests from Monday through Thursday as an important capstone event in our ten-year accreditation peer review reaffirmation process. While here, they will be reviewing all aspects of our college operations, but most specifically, will be evaluating our recently developed Quality Enhancement Plan (QEP) – Sowing Seeds for Success. I am sure that many of you have noticed (and hopefully been reading!) the informative series of emails Jodi Pack has been sending out over the past week, as well as the many signs and banners that have cropped up on campus highlighting our QEP for improving student engagement and personal responsibility, our college's mission statement of providing "personal, dynamic learning experiences empowering students to succeed," and the values of integrity, engagement, student effort, high expectations, and community that we model as a college. I know all of us are justly proud of our Eagle mission and the transformative work we do every day to further empower our students to success, so I hope you will not hesitate to share that pride and enthusiasm with our guests when you see them on campus, as well as give them a great big East Texas welcome and smile!
I want to sincerely thank the QEP committee for the great work they have done to develop our QEP plan over the past year and a half. I am personally very excited about the implementation of the SEEDS of SUCCESS course and other initiatives included in the five-year plan. I'm confident that this first year experience course will help improve our student's engagement and personal sense of responsibility that are so important to their current and future success in life.
Please let me know if you have any questions about next week's visit. I am so proud and can't wait to show off the impactful work taking place here at NTCC!
Go Eagles!!
Dr. Ron Clinton
President,
Northeast Texas Community College