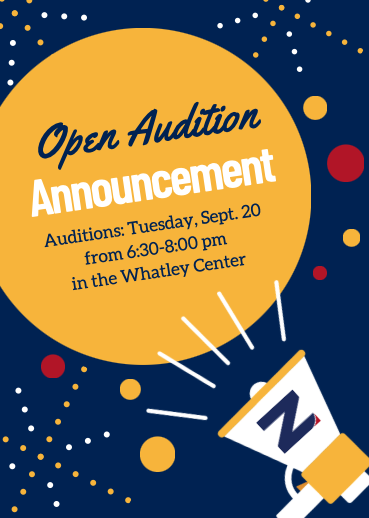 September 15, 2022
By: Dr. Page Petrucka, Director & Associate Professor of Theatre
Northeast Texas Community College Theatre Department is excited to bring to you two fabulous plays for our 2022/2023 theatre season. Our first play, Almost, Maine, will be December 1-3, 2022 in the Whatley Center.
A LITTE ABOUT THE PLAY:
"Welcome to Almost, Maine, a place that's so far north, it's almost not in the United States. It's almost in Canada. And it's not quite a town, because its residents never got around to getting organized. So it almost doesn't exist. One cold, clear, winter night, as the northern lights hover in the star-filled sky above, the residents of Almost, Maine, find themselves falling in and out of love in unexpected and hilarious ways. Knees are bruised. Hearts are broken. But the bruises heal, and the hearts mend—almost—in this delightful midwinter night's dream."
The Cast: Varied ages. Some physicality and couple interaction required.
Auditions will be held in the Whatley Center on Tuesday, September 20th from 6:30 to 8:00 pm. Be prepared to fill out an audition form. Sides from the script will be provided. Rehearsals will begin on Tuesday, October 4th at 6:30 pm and will be held Tuesdays through Saturdays.
If cast, you will be required to attend all assigned rehearsals and every night during tech/performance week. Performances are December 1 ,2 and 3rd at 7:30 pm with a matinee at 2:30 pm on Saturday, December 3rd.
Questions? Please contact Petrucka at ppetrucka@ntcc.edu.
See you there!