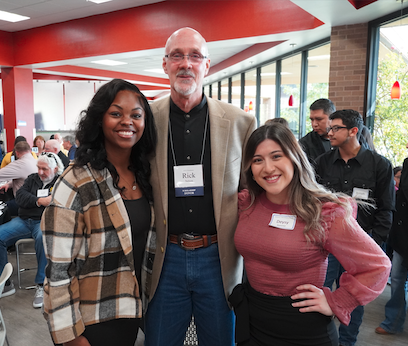 March 9, 2023
Pictured: Donor Rick Nelson with his scholarship recipients at the 2022 Scholarship Brunch.
Did you know that the NTCC Foundation awards over 300 privately-funded scholarships to students each year? Thanks to the generosity of the community, they are able to help students achieve their college goals. You do NOT have to qualify for PELL to receive scholarships. Deadlines for Foundation scholarships are approaching soon. Spring break is a great opportunity to get your applications submitted so you can be considered for one of these awards. Visit www.ntcc.edu/scholarships for more information or to apply today. Questions? Call 903-434-8116.
Foundation Scholarship Application: Due March 20th
All students who plan to attend NTCC during the 2023-2024 academic year are encouraged to apply for these scholarships.
Transfer Scholarship Application: Due April 7th
All students who will graduate from NTCC in May 2023 & plan to transfer to a university are encouraged to apply for International Sulphur Transfer Scholarships.
Work4College Application: Due April 14th
This unique program takes place over the summer & allows participants to earn money & save for NTCC classes at the same time! Apply at www.work4college.com