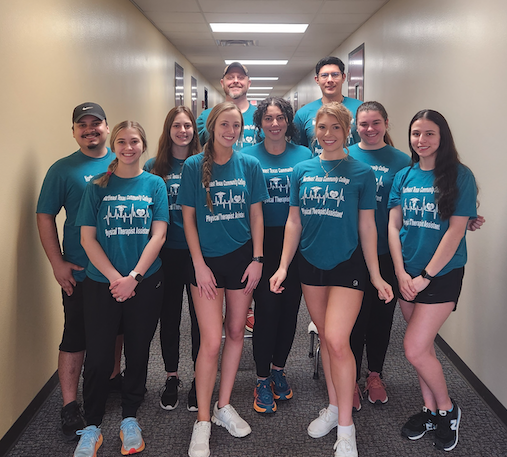 March 9, 2023
Pictured: Back row: Aaron Gage, Eddie Banda Middle row: Marco Alcaraz, Christina Brunson, Megan Turner, Deagan England Front Row: Brandi Neal, Jayce Nutt, Amanda Harrington, and Wendy Harrington.
NTCC Physical Therapist Assistant students attended the East Texas District meeting of the Texas Physical Therapy Association (TPTA) on Thursday February 16th at 6:00pm by Zoom. The students learned how a meeting of the East Texas District is conducted. Following the East Texas District Meeting, students participated in a continuing education course outlining PTA Practice Rules in Texas. The role of the physical therapist assistant in Texas was clarified according to the PTA practice rules of the state. Supervising physical therapists in Texas are often unsure of the role of the PTA according to the research of the presenter, Shaunda Kwiatiek, East Texas District Chair. This course provided clarification of the PTA role to both physical therapists and physical therapist assistants and students in East Texas.
The NTCC Physical Therapist Assistant Program is currently accepting applications through March 31, 2023 for the fall class of 2023. Please contact Bree Thompson by email at bmcadams@ntcc.edu or by phone at 903-434-8124 for more information regarding the NTCC PTA Program.