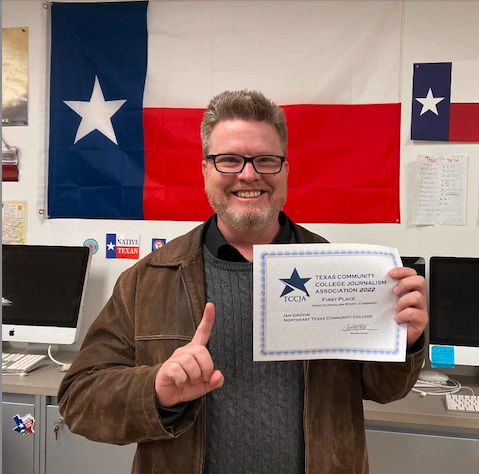 November 21, 2022
Pictured: Ian Griffin with one of the first place awards from TCCJA.
By: Doc Anderson, Eagle Co-Editor-In-Chief
The Northeast Texas Community College Eagle newspaper staff brought home 22 awards in several print, video and photography categories at the Texas Community College Journalism Association, TCCJA, this past weekend.
The TCCJA is held annually in the fall semester. This year the NTCC journalism group traveled to the University of North Texas to attend the conference. Participant schools are divided into divisions and compete in news writing, feature writing, column writing, overall excellence, action photography as well as other categories for previously published content.
The Eagle staff earned 5 first place awards, 8 second place awards, 7 third place awards and 2 honorable mentions. Among the first and second place awards were first place Overall Excellence for magazine, and second place Overall Excellence for the newspaper and website.
Ian Griffin, NTCC student and Eagle staff writer, received a first place award for his non-journalism article reviewing Pittsburg's local restaurant Racks, Daqz, and Axe. Griffin credited the editors and Eagle staff as a whole for his win.
"I was completely shocked, I did not expect to place anywhere," Griffin, Retired Army Command Sergeant Major, said. "There was a lot of training from each of the editors, and the instructors. I had a lot of tutelage."
Yanet Castro, NTCC student and Eagle staff writer, earned a first place award in sports action photography. Castro managed to snap an action shot of the NTCC rodeo team in action. Castro said she was anxious as the awards were read out and was pleased to see her name on the big screen.
"I was really excited," Castro said. "The staff is really fun and everybody is always willing to help one another. I learned a lot from everyone."
Mandy Smith, Eagle Adviser and Journalism Professor, said the relatively new Eagle staff is carrying on the torch of excellence that was lit years ago.
"The students who won awards at this year's TCCJA conference are continuing The Eagle's tradition of producing award-winning journalism content for our NTCC campus community," Smith said.
Smith said the students' wins are an affirmation of the work that she and fellow adviser Daniel Sanchez are doing with students in the newsroom.
"There is just nothing much better than seeing a student when they hear their name called out and suddenly realize they now carry the title of award-winning journalist," Smith said.
Daniel Sanchez, Eagle Adviser, said he looks forward to what the group produces in the future.
"We have a talented group of students," Sanchez said. "The staff has stepped up their game each semester and become competitive in the video and online categories. In I'm eager to see how they do in upcoming conferences."
Up next, the Eagle staff will prepare entries for the 2023 Texas Intercollegiate Press Association conference in Fort Worth. The staff will once again submit previously published material but will also have the opportunity to compete in live events.
For more information on the Eagle News Network contact The NTCC Eagle Editors at ntcceagleeditors@gmail.com.