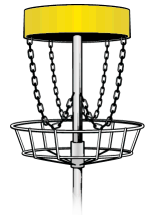 Disc Golf, also known as frisbee golf or frolf (a combination of frisbee and golf), is a game that is very similar to traditional ball golf.
However, instead of using golf balls and golf clubs, players throw a disc into a basket or at a target. Score is kept the same with the lowest score winning.
The object of the game is to finish the course in the fewest number of throws. A hole is started by someone throwing a drive from the tee pad area and completed when the disc comes to rest in the basket.
The game of disc golf is played all over the United States as well as around the world. As of 2010, there were more than 3,000 established courses, nearly all of them free to play and more being designed and implemented all the time. Most of these courses are 9, 18, or 27 holes and vary in length and difficulty.
Along with the low cost of disc golf and availability of courses, it is a very enjoyable sport to play no matter how young or how old a person is.
Basic Rules of Play of Disc Golf »