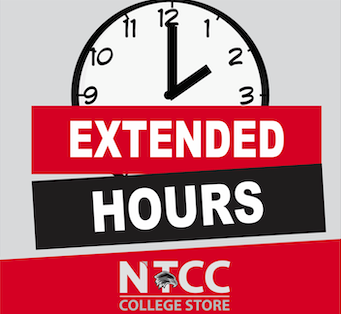 January 13, 2023
The NTCC Bookstore is extending its hours to better serve students as they prepare for the spring semester! They will be open Friday, Jan. 13th from 8 a.m. to 2 p.m., Saturday, Jan. 14th from 10 a.m. to 2 p.m. and they will also extend hours the following Friday, Jan. 20th until 2 p.m.
The NTCC Bookstore isn't just your source for textbooks...they also sell a variety of supplies, apparel and snacks. Take advantage of their extended hours to make sure you are ready to go when classes start on January 17th!
Regular hours are Monday-Thursday from 7:30 a.m. to 6 p.m. and Friday from 8 a.m. to noon. The bookstore is normally closed on Saturday and Sunday.