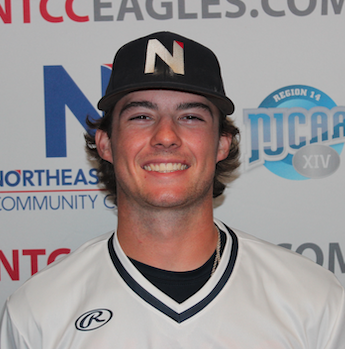 April 1, 2023
Nolan Bushko (pictured) had three hits, two RBI's, and two runs scored on the day.
By: Justin Hargrove, Assistant Athletic Director
Northeast Texas Community College baseball took to the road on Monday, February 27th to take on Hill College in a non-conference contest. NTCC scored early and often to bring home the 11-6 win over the Rebels.
Caleb Reynolds (Frisco, Texas) got things going in the first inning with a one out single and then used his speed to steal second and third bases and eventually score on an error for the early Eagle lead, 1-0.
The second inning started off well also, as Nolan Bushko (Haslet, Texas) doubled to start the inning off and moved to third on a ground ball to second and then scored when Caleb Edmonds (Risin, AR) grounded out to short stop to put NTCC up 2-0.
Hill College cut the lead in half with a run in the bottom of the third to bring it to 2-1 NTCC, but the Eagles would then open it up with a four run fourth inning.
Bushko, who would go three for five on the day, led off with a single to left-center field and moved up ninety feet to second and third on singles by Edmonds, and Paxton Ponder (Frisco, Texas) and eventually score on a double by Anthony Capobianco (San Antonio, Texas). Edmonds would score on the double as well and then Ponder came home on a Sac-Fly by Reynolds to push the Eagle lead to 6-1.
NTCC added one run in the seventh with Short Stop, Carson Lorch (Cypress, Texas) reaching on a one out single. Lorch scored two batters later when Bryce Johnson (Fairview, Texas) hit a triple to right-center field.
Hill College tried to get back in the contest in their half of the seventh with a four-run barrage with a mix of hits, walks, and wild pitches, but NTCC was able to hold on to a 7-5 lead.
Two runs in the eighth and two runs in the ninth by NTCC would put the game out of reach for NTCC to bring home the win. Edmonds and Ponder would score in the eighth inning and Lorch and Jose Magallanes (Holly, CO) would each walk and eventually score to lead 11-5.
The Rebels would scratch out one final run in the bottom of the ninth but were unable to get back in the game and the Eagles came away with the road victory. Five Eagles would have multiple hit days to power the NTCC offense to the win.
Eight different Eagles saw time on the mound in the game to combine to give up five runs on eight hits and strike out seven Hill College batters.